We perform many concerts - both the Chamber Choir &/or the Consort, mostly as charity fund raisers (for which we do not charge), but are also happy to be approached for projects, guests and special events.
Its always worth an enquiry - explore the possibilities with our Director - John!
director@andantechamberchoir.com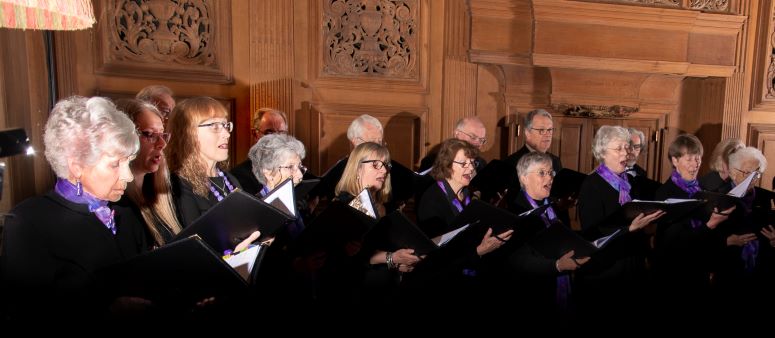 Frequently Asked Qustions:
WHO SHOULD WE CONTACT TO DISCUSS AN ANDANTE CONCERT?

WHAT COSTS ARE LIKELY TO BE INVOLVED?
andante does not normally charge a fee or expenses for presenting a charity concert in our locality. However, as a concert promoter, you are obliged to pay a Performing Rights Society (PRS) License, as the choir and/or consort is almost certain to include copyright music in its programme. Your venue may already hold a PRS Licence. If your venue is a church it may hold CCLI (Christian Copyright Licensing International) which may include PRS for Music Church Licence. If not,

a

ndante can deal with a one-off PRS license for you, but you will need to pay the license fee. The cost is calculated on a sliding scale based on the number in the audience - John can advise you on the current figures, but they are not onerous!

You may also have to consider costs associated with your chosen venue, staffing the event, publicity & printing, refreshments and other expenses.
HOW DO WE CHOOSE A DATE AND A VENUE?
The choir and/or consort aims to perform a concert a month but takes July & August off and rarely gives concerts in January and February. We already have 2024 concert dates booked in April, May, June and November.

Due to demand for our services we often work a year or more ahead.

Contact John to request that your concert is pencilled in for your chosen month.
The choir has found that Friday or Saturday evenings, or Sunday afternoons are popular with audiences.

Sunday afternoons seem particularly popular with elderly audiences, some of whom are less inclined to attend on dark evenings.

Choose your venue. The choir sings best in reasonably large buildings - often churches - with resonant acoustics. We just require an open, empty performing space. A power supply is useful if lighting is necessary. John can advise you on this and the choir has lighting available. Sometimes a chair for each singer is necessary - normally 32 singers. Obviously toilets on-site or close by are a necessity. And do let John know if it is a cold building!

C

ontact John to confirm venue is appropriate (John will want to visit the venue if it is one in which

andante

has not performed before).

Confirm your chosen date with your venue and confirm the booking for the choir with John.

Find out if your venue holds an appropriate Performing Rights Licence (PRS/CCLI?) and advise John.
WHAT DO WE NEED TO DO A COUPLE OF MONTHS BEFORE THE CONCERT?
John can send you a poster by email for you to print and distribute - or provide you with necessary copy for a poster of your own design. Please note, it is not andante's job to find your audience!

Consider the implications for having tickets available in advance. Are tickets going to be available on the door?

Consider contacting the local press and other advertising; if you would like a photograph of andante to send with your article to the press, please ask John for electronic copy - many choices are available on our website.
WHAT DO WE NEED TO DO ONE WEEK BEFORE THE CONCERT?
John will send you the programme (usually just a single sheet of A4 printed on both sides) by email for you to print or as copy for your own prepared programmes.

Very often the choir will distribute the programmes to your audience as they arrive at the concert. We enjoy meeting with your audience before the concert.

WHEN WILL THE CHOIR WANT ACCESS TO THE VENUE ON THE PERFORMANCE DAY?
The choir would like access for layout and warm-up purposes up to two hours before the concert. Access to toilets is appreciated, as well as advice on the building - power points, movement of furniture, positioning of lighting, etc. A cup of tea is always appreciated! Please work out where the choir can leave their coats & bags etc.

Before the concert please agree with John the arrangements for introductions/ vote of thanks/ raffles/ etc.
WHAT DO WE NEED TO DO AT THE END OF THE CONCERT ON THE NIGHT?
Please give John the appropriate amount for Performing Rights in cash or cheque payable to "Andante Chamber Choir".

Please advise John as to how much money you raised for your chosen charity as soon as the figure is confirmed - the choir likes to know!
WHAT DO WE NEED TO DO IN THE MONTH AFTER THE CONCERT?
Was it successful? Would you like to do it again? Don't forget to book your next concert!
Good luck with your fund-raising!